Kristijan,
Congratulation to you and your wife . I know you must be proud

Congratulations. I bet he gets wooden blocks and chunks to play with soon…
Congratulations Kristijan !



You managed to straighten out the bridging - finally


Pass congrats to your family.
Hey BruceJ.
Cat road graders was my father-in-laws favorite piece of equipment.
He went into road building as a contractor in 1940 with the bypass the Natzi sub problem building the overland road to the Panama Canal zone.
Couple of decades later ending up of National Forests roads crews as an equipment operator.
Finished as the whole Forests Roads Manager.
Yep. He said lots and lots of greasing points on those.
I think he liked the grader work because it could with one piece of equipment turn near un-useable into smooth, useable. Plus road maintenance then he got to go home and sleep in his own bed nearly every night.
Regards
Steve Unruh
Congratulations to the growing Leitinger family.
Here's some interesting news.
Chief Justice Richard Wagner, writing for the majority,: "Climate change is real. It is caused by greenhouse gas emissions resulting from human activities, and it poses a grave threat to humanity's future," Wagner wrote.
Seems fairly indisputable, coming from one of the most learned courts on earth.
After a 80F day (normal 45f) we have a major wind storm as I write this. Power outage. The 22 year old Generac started first pull and earning it's keep.
Glad you have the generator all setup and ready to go. We had a bad power outage no long ago here 6 hours I was just thinking I needed to setup my generator when the power came back.
The wind has been wicked this spring makes me want a turbine.
Power was out for only 5 hours.
I would also like to try a small wind mill, under $200 not counting batteries. Forget the above the tree setup. But still, it would take up room and be in the way. Last summer there was not much wind and this winter was calm. The solar is out of the way and doesn't consume any valuable space. I always end up crossing it off the list. Wood/charcoal generator and solar seems like a nice mix. Right now I think the investment would be better spent there, but I could change my mind.
You might have more open ground area . . .
Everybody's milage will vary . . .
I am about a mile from the base of the mountain and it comes down across here pretty good with the fields. I could definitely make some power. Back in the 80s my uncle recorded the wind speeds and it was borderline then but more trees have been cut and the wind technology is much better.
But my thought would be to connect the wind directly to big hot water storage tank. I would like to put in radiant floor heating and let it add whatever it did to the thermal mass so I don't need a dedicated inverter for it. Not sure it would be worth the charge controller here might be but you still need the dump zone so I am thinking just make it a heater and 100% dump zone. Basically on the keep it simple plan.
Hi Dan , washing machine motors Fisher Paykal smart drive motors are fantastic 3 phase ac motors that are used in DIY set ups they would connect directly to heater elements in a water tank , no inverter or charge controller needed long as it does not go over speed but then a mechanical braking system might be needed .
Dave
I was also thinking on those lines, in a small way. Put the wind mill next to my small work shop and just connect it to an electric heater. What ever heat I get would help with what is inside.
Edit: Got to saw one nice Hemlock log today. Nice day today. Just a bit hot, 80F.
Wow it only got to 54F here today. I didn't think it would be that different in PA.
It is always a good day when you fire up a saw mill. I spent my day cleaning out the chicken coop and the pig pen. Got to test out the new chain in my manure spreader that I installed the other day. It worked for one load today so I guess I got that repaired.
I don't know if I can spread anymore before the ground gets too soft and mud season gets here or not. But it was nice to atleast get the chickens and pigs cleaned out today.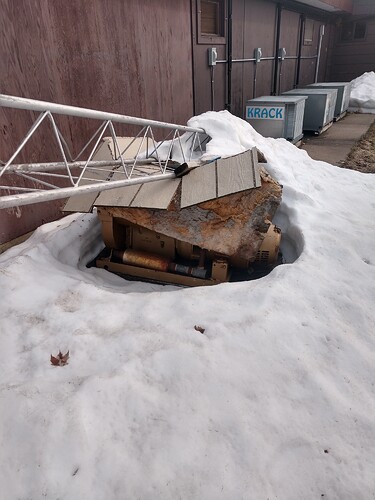 Well, the negotiations are on again. I was interested 15 years ago for $1500…now I am thinking $1000 if it still spins. It's a Kohler 15kw armature start dualfuel. It has the hay baler Wisconsin V-4 flat head. It was purchased brand new and never has been started.
Oh, and it's a dualfuel!!!
Wow Dave! This is really informative. So are those motors piling up in Australia?
Seems really worth while to pursue.
These motors are coming into scrap yards everyday , they are fantastic motors and with some rewiring work you can change them to 12/24 volt and rectify to DC .
Just a spin with your hand can light up a bulb no problems , there are plenty of washing machines over your way that use the same motors be it a different makes , just google to find out what ones .
Dave
I have never seen a fisher paykel motor here. Apparently samsung will sell you one for ~$140.
Here $200 gets the worthless "400 watt" chinesium wind turbine.
I don't give up on wind, but there is a lot lower hanging fruit. Even mirror tiles pointing at solar panels offer more gain.
Towers take a LOT of resources. They have to be tilt too, because you have to be able to repair the turbine. Here they have to be tilt- hand cranked… can't trust some machine to start in winter, to take down the tower.
Here the power wind is at 75ft (no turbulence). The footprint for a tower like that is about 500ft from where the power would be used. So I don't know, it just seems there are so many cooler projects to work on.