So, l bought this litle beast last month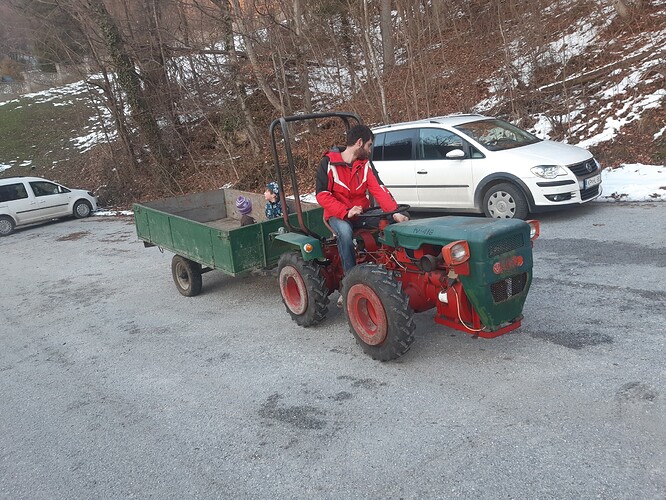 Its a 18hp 1cyl diesel. Its fuel consumption is not terrible, but once you feel how it is to drive for free every galon seems like a waste of money

Anyway, normaly l wuldnt consider gasifying a diesel but what struck me when reading trugh the specs is it has 1/17 compression ratio. That means it shuld run on woodgas without much modifications. And run good too!
This topic is more or less hypotetical in nature. I may, or may not decide to fidle with it. But for conversation sake, lets give it a go.
Obviously the easyest way wuld be to let it idle on diesel and just add woodgas/air mix via throtle body on demand. But there are 2 drawbacks. First, l dont know how the governor will react when diesel throtle is set on idle but rpm go up as woodgas is introduced. Will the governor close the fuel suply to the nozzle completely?
Second, the tractor is not particulary keen on starting up in winter time. Under freezing temps it just spits fog out the exhaut till the battery dyes. I need to heat the battery and the whole engine with a electric heater prior to startup. In my opinion, woodgasing it via pilot diesel ignition will only make things worse.
Part of the reason why l created this topic is SteveUs advice on installing spark ignition on a engine. Shuld be like childplay here since flywheel and its houseing are so easy reachable. I think it MIGHT allso be possible to keep the diesel nozzle and add a sparkplug somewhere on the head. This way l actualy have a dual fuel engine wich is nice by it self.
Again, a drawback. What do you guys think will happen with the nozzle and pump while runing on woodgas with the diesel lever shut off? Wuldnt want to melt/ruin it…