Chris, did you buy a vent free gas heater yet? If not (or even if you did) I hope you have read the many letters from homeowners who have health problems because of those heaters. It seems like most of the good things we read about them come from those who are selling them. Just sayin. We need you here with all your mental facilities:-)
Hi Don,
I've read all the positive and negatives I can find. Here's the Amazon reviews from my unit, which got 4.5 stars:
Most of the really negative stuff I've seen is on sites that sell more expensive vented heaters. It's handy to have something to blame for health problems… not saying it's all BS, but people do love to complain. Remember too that heaters have come a long way over the years, and standards are much stricter now than 30 years ago. A lot of legit complaints are about older heaters that didn't work so well.
After 1980 all heaters have ODS (oxygen depletion sensors) for safety. Several independent studies have been done since then, for air quality, moisture output, and general safety - all results were positive. Good overview here:
If you can find studies that say otherwise I'd like to see them.
Basically these heaters are held to very strict safety standards, and burn extremely clean. My building is not airtight, and gets multiple "air changes per hour", so there won't be any buildup of pollutants over time. I'll have a CO detector and the built in ODS, along with my nose, in case of catastrophic failure.
I'm much more worried about the long term side effects of woodgas than I am about my heater. There's more nasties in a faceful of hopper smoke than you'll ever get from a ventless heater.
All that said, if it smells bad or for some reason I don't like it, I'll be looking at other options.

Thanks Chris. I sorta knew you wouldn't be you without doing your homework!
I wanted you all to know, I have finally passed all the tests and I will be getting my Stem Cells implanted this coming Tueday, today was my first day of heavy chemo with four days in front of me, Monday is recoup day then cells. I'm doing fine, I guess it won't get ruff till about three days in, After I get my cells back it will be some ruff going but soon will be getting my strength back! Hopefully get to go home in about 44 days!
You are on the way Herb. I'll ask the BigGuy to look in on ya over the next few days or weeks
Tomw
My thoughts and prayers for you Herb.
Hello Herb.
Please keep us posted , our thoughts are with you .
Let me know if I can do anything for you Herb.
Herb…wish you all the best. Good luck my friend.
Gary
Herb,
hang in there, were all pulling for ya,
Chemo is no fun, but it does work!
You'll be reunited with your stem cells real soon and hopefully your counts will go up fast.
but in the end we pray it will all be good. Stay positive, we'd all be there with you if we could.
15th of October became my first woodstove fire day.
Until then been once a day batch burning off "summer" accumulated papers and cardboards as mornings chill breakers. Very messy ashy making stuff.
Day of the 15th was 2 inch (5cm) Plus all day cold raining. Three big wetted dogs. Pants, two coats, and two pairs of boots and wet me had dragged in-house too much moisture.
10 pounds (4.5 kg) of wood in the stove gave a very pleasant evening sit-by with a 50,000 BTU 3 hour duration burst. ( ='s One plug-in wall heater for 10 hours. Or 10 plug-in wall heaters for ONE hour)
And gave 6 hours of in-house, no electricity needed, air-changing humidity removals.
My hard core heating/moisture removal ventilation season begins now. 250 days long into next July.
Like mowing that yard grass for that first time in the Spring . . . . once began - In for it now!
How you furnaces folk can be happy is beyond me. Boring. Dull. And same-same temperature bland. Too irritating air blowing noisy for me.
Regards
Steve Unruh
Rest and get well Herb.
Steve, try to stay dry… it's been raining up here too.
Looks like i have a stationary system to build for a fellow in the North West Territories. I don;t even know how he heard about us yet.
One of our small systems. it will be on a trailer just like our pre production unit but based on our current tractor gasser. Just waiting for the deposit to come through on electornic transfer.
I was ask to bring my tractor and truck to a local get together and show them . Almost too much going on at a time.
Picture below shows wife helping make sorghum syrup . Sure went well with her cat head biscuits!!
Square dancing, clogging and local music under every shade tree and truck tail gate .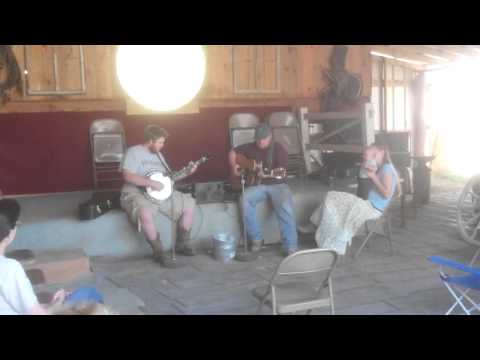 Thought I would do some resting last night but bow season open this weekend and son got a deer just about dark so dressed and processed meat last night and this morning .

Looks lke a good time was had by all. Tell Tally congrats on the beast.
My boss is cutting cane today, hope it turns out good. I told them if they would put a longer pole on that mill, I could pull it with the Dakota. The mule was the only one in favor of that. What would those city slickers think?
Good luck Herb. I turned 60 on the trip so now I can say I'm OVER 60 … I bought a jar of Kentucky sorgum on the way home. Production was low here. My neighbor keeps promising me some but never delivers … I hope you feel like a new man next month. I've been trying to get my legs working after 2 solid days in the car. I had the shiver and shakes last so may have been around too many people on the way home. Sue just had to stop at Fazolis on the way home and it was packed solid with coughing church people in suits … Mike