Ha, same. Oldest of 5 brothers.
Thanks for the video and pictures .
I am postponing a lot of my work for a couple of weeks . I have some good strong help planing to arrive in two weeks


Two weeks of farmwork in two days. I'm going to be busy supervising @KristijanL

but I have no doubt he will manage.
Make sure he stays well hydrated with plenty of good-old-fashioned American beer. The best of it is of course brewed in Oregon, but there are no doubt a few other places putting out a passable alternative.
Haha JO and Carl, with enough hidration everything is possible

Ohhhhh, brew me a beer without artificial bubbles, those carbonated beers of today, da, da da, but Utica Club
will still take the trouble to brew beers the natural way, Utica Club, UC.
Advertising ditty from my drinking days and a just down the road (from Tupper Lake) NY brewer in Utica, NY.
Pepe
Is this a relative of yours, Mr @Wayne ?

Hello JO .
When I mention that I drive a wood powered vehicle that is exactly what most folks have in their mind.

I can see it driven by Cheech and Chong in a hilarious skit!
I worked on preparing my garden today. Got it all rototilled and planed out my new tomato arbor. If it doesn't rain tomorrow that is on the project list then I can start planting some of the early stuff. Tonight when I looked at DOW. I thought maybe we can close out the winter of 2018 pretty soon and move on to the summer of 2019. I for one am happy to see winter in my rearview mirror this year it was a long cold winter with not enough wood put up in advance hopefully next winter will be nicer as my wood is currently in my shed drying.
It would run on stems and leaves, then toss the seeds out the window.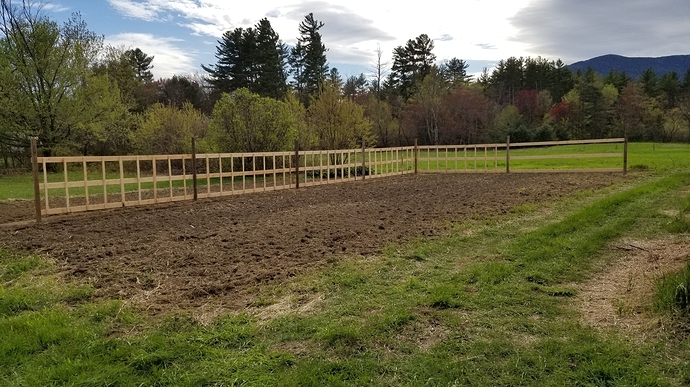 I almost finished my tomato arbor but I ran out of 2 inch wide scrap from my mill so I had better fire it up and clean up the resaw edge boards I didn't saw the other day because I wanted to work on the arbor. Each one of those sections is 16 feet long and the vertical slats are 20 inches apart so I can plant a tomato at each one. It is amazing how many tomatoes you can use if you make sauces out of them.
I was lining up the ladder to start painting, looked skyward, and saw this…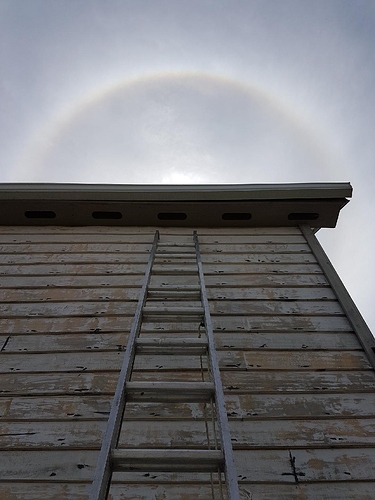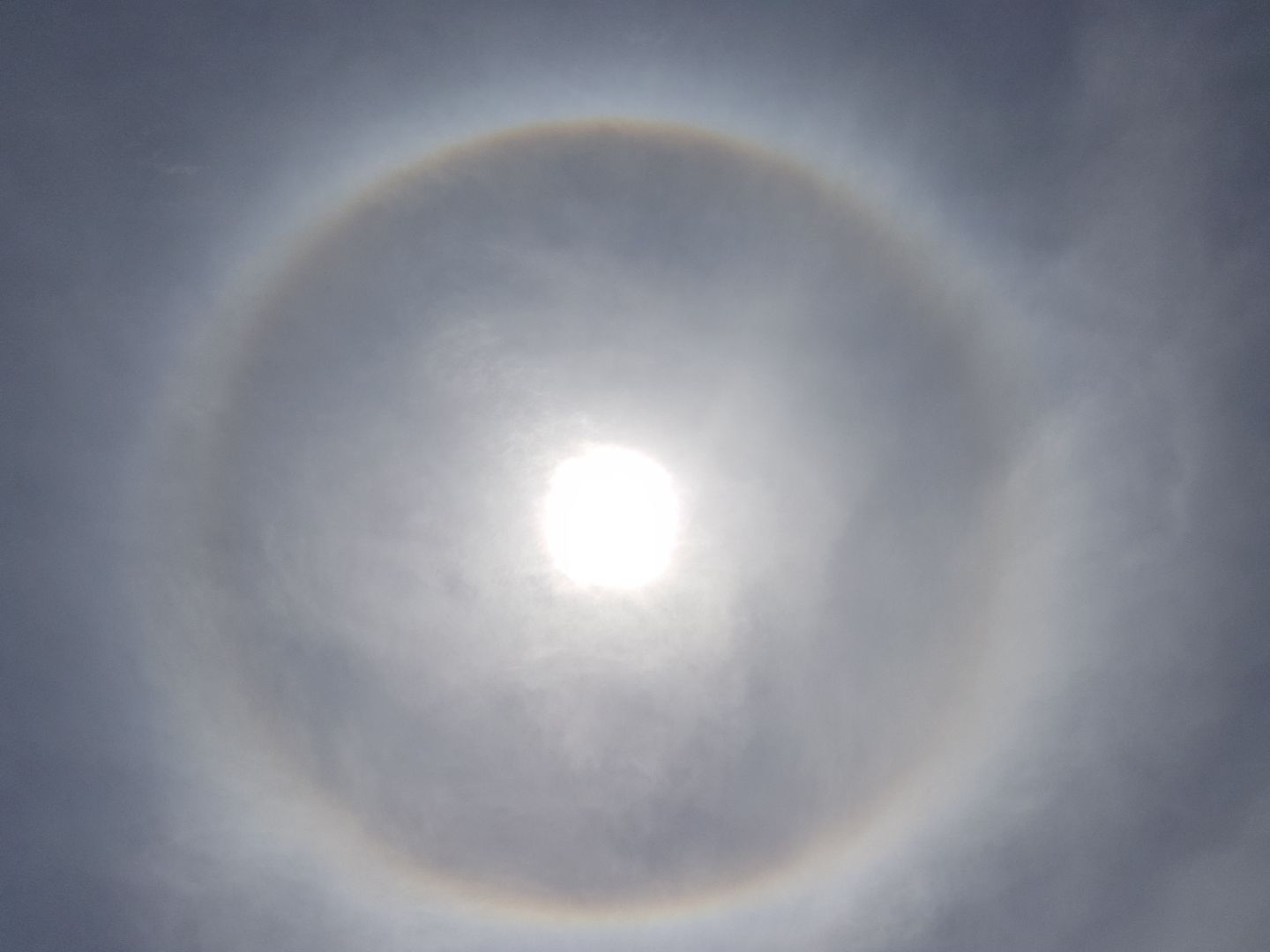 Ice crystal rainbow around the sun.
Not a normal sight for this time of year…
Spring has been late, dandelions are just in mid bloom, trees are only beginning to leaf out.
That is a cool ICE rainbow we don't get those down here. My dandelions just came up today and only a few. Our spring seems to be late too but I am sure my grass will shoot up like crazy because as it warms up.
Neat picture!
Ours went to seed already. well all the ones that made it through the mowing, dethatching and aeration process.
It is actually still too wet to till the garden. I might just go no till. I have about 1/3 of the garden covered in grass clippings…
I think/hope we received our last snow today. Most of the snow is gone in the woods now and I even found some leeks.
All the taps in the trees are pulled and the trees are starting to bud.
I think we can change this to 'Life goes on- Summer 2019.
@Chris, what do you think?
Bill, how was the sap season this year? Hope to try some next week

Oh yes, I forgot to change this over. See here: