I've never tried tennis shoe, but I guess it can't be any worse than squash!
I like squash and pumpkins wery much, once our pigs process them first

Hey!
Squash are a miracle food! Zucchini are ridiculously productive, probably nothing else matches them for pounds per square foot, and then there's the winter squashes, many will easily keep for over a year. I love the acorn squashes, and other hard rind squash, can be used in soups and stews like sweet potato, etc, etc.
In my perspective squash is some of the greatest achievements of selective breeding that man ever accomplished, corn being the other miracle.
But I do like Kristijans approach also…
The seeds also can be pressed for oil and they produce a lot of seeds. Doesn't take long to harvest and not time intensive to grow.
Jeff is correct. Pumpkin oil is a simbol of our country. Its on our menue every day. For everyone that havent tryed it yet, l strongly advise you do. Thank me later
But, not every pumpkin is suitible for oil pressing. There is a voriety grown in vast quantitys here, called Golica, that produces seeds without hulls. The seeds are dryed and roasted slightly, then pressed. The oil is not cheap, but worth every penny.
Allso, a equaly traditional thing is roasted, salted pumpkin seeds. They are eaten as snacks, much like you use peanuts
however, those are usualy made out of regular pumpkin seeds. You squeeze them with your front teeth and a delicious treat pops out of the husk. Easy to make at home.
we like to roast pumpkin and squash seeds with some cajun seasoning on them. Toast em just right and you can eat the shell and all
Tennis shoes and squash have to be better for you than the fast foods they want to sell today.
Here in New Hampshire we have a couple of pumpkins still on the vine. Frost is late this year, but tonight is supposed to be a cold one. Unusually hot day yesterday for cider making.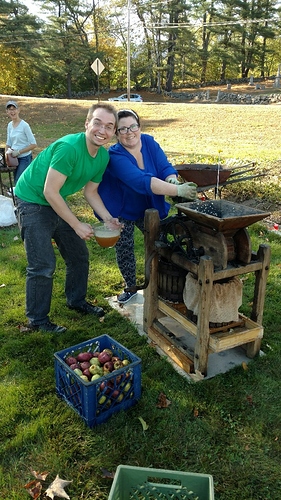 20 gallons in a few hours with 150 year old press.
Were you shopping at Steel Cylinders 'r' Us?
And old torch carts r Us. Can't wait to try out a full grown torch cart outside on rough ground.
Don, finally rememebred to ask about the compressor…the one we used over at Equip was the following:
NorthStar Portable Gas-Powered Air Compressor — Honda 163cc OHV Engine, 20-Gallon Horizontal Tank, 13.7 CFM @ 90 PSI
$949
The one I was using to test my sprayer was just a cheap oil-less upright from Harbor Freight…
thanks
So… this tractor followed me home. David Brown 990 with loader. Diesel, Some blowby, brakes are poor but for $1400 Canadian a good deal. Thanks to Wyatt for helping me get it home…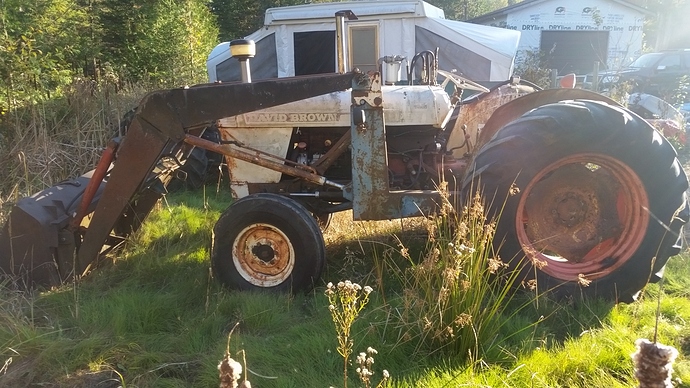 That was a real good find. That would cost $4000 to $6,000.00 depending on the older make and model here in the Wenatchee Washington area, and it would not be in as good shape, as the one that followed you home. People here think tractors that are rusted up and can not run any more are $1,500.00 dollar Yard Art.
Bob
Very nice David!
@Chris What do you think about Having a new topic "This followed me home"? It would be nice to look back and see the different things people here acquired.
My neighbor has one of those tractors. It is A little odd but here is the one that got him after 40 years of using it. It has its own oil supply for the fuel injector pump and he never changed it because he didn't know it has a separate supply. That cost him a fuel injector pump replacement and the rebuilt pump he got was a mess still doesn't run right. So bottom line find the injector pump oil and change it. Of course maybe they are different years and yours won't have a separate oil supply for the pump but that is the only diesel I have seen it on. Good luck hope it gives you years of service. I love the old tractors they are just built to last.
Last weekend I was ask to bring a wood burner to a local event.
I really enjoyed sitting around talking to folks and doing nothing