Time to open a nother topic

The vehicle in question is this one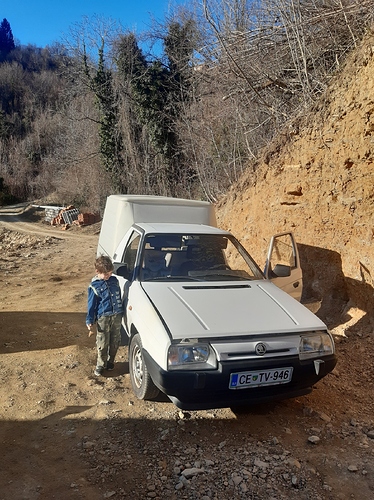 A 93 škoda, 1.3l carburated engine. Pushrod OHV. 57hp. Not the first choice for woodgas but suitible trucks here are about as common as a honest politician. The truck is light thugh so the power is good on dino.
I will post detailed pictures later but for now, l can say l love it already

everything is so simple and mechanical. And SPACEOUS!!
I did some investigation yesterday. The fuel guage float was stuck, fixed now. I changed the antifreeze since it looked bad and watery, added some oil.
There is a leak in the brake amplifyer, wich makes it idle rough (one cyl is lean). I culdnt find where the problem is.
To much of my surprice there is no pump in the fuel tank. It seems there is a mechanical diafragm pump on the engine that sucks the fuel from the tank, trugh the carb, then return to the tank. Good and bad at the same time for woodgas.
The carb is a double barrel style. Metalic intake manifold.
In any case l will filter the gas free of any soot and continue practicing the wood/char mix feedstock to achive perfectly dry gas so sooting the carb is not a problem. Hybriding might be.
I have 3 options here:
first is to install a secons tb like l did on my Mercedes. Tryed and prooved to work perfectly, but its a lot of work and demands time wich l do not have…

second is to pipe the gas/air mix trugh the carb. Simple and fast but wuld require a shutoff valve for petrol and wuld make swiching from wg to dino difficuld and with a delay, hybridindg wery hard.

third is a idea l never saw before, a bit crazy, and l wuld like any thods from you guys that popp up.
The carb has 2 barrels that move independantly. The first barrel is the main one, second opens if the pedal is all the way down. I was thinking l could isolate the two and screw in plugged jets on the main venturi. That way no petrol wuld flow in the first barrel and it culd be used as a woodgas TB. If hybriding is required, a furter push on the pedal wuld open a second barrel.
As for the woodgas part, l will be runing my modifyed hevy duty 7" wk from my Mercedes. Thats the easy part