I think the alternative is called plastic decking…
so I made wood chips and much less then half were correct size for wood chip gasifier . so I gave up on wood chip gasifier and stated working on charcoal for small charcoal gasifier .

I got a very good yield from waste with this screen
Had this oven sitting last five years . using it to make charcoal
stove pipe is spacer within can
You would think there would be steam , instead liquid , then burnable gas .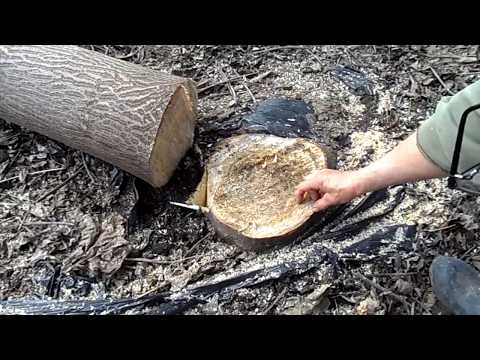 Pawlownia harvest in Bosnia. 5 years after planting. Its not exactly oak but even if the wood is super light such a harvest in such short time must make some sence in todays energy crisis???
What size flywheel would you use?
Had to ask the director for translating. Didnot know that it grows so fast, maybe faster then willow. The nice thing with willow is, you cut it and it grows again. This ones are cut and you have to plant again? Very fast grower. That is for sure. And straight. Nice for timber?
Tom,
I asked the question on here a little while ago: Truck Powered Chunker, would it work? I got a strong negative response from people here. But still, I think it could be done somehow. The exact setup on that thread wouldn't work. I see that now. I think the speed would have to be reduced 2:1. I'm worried that your tire full of cement might be hard to balance. A flywheel from an old baler would have been made to turn at 540 rpm, and it seems that most chunkers turn between 60 and 120 rpm. I flywheel stores energy at a rate proportional to the square of its speed. 60rpm/540rpm=1/9 so a baler flywheel turning at 60rpm just isn't going to be anywhere close to storing enough energy.
Here is a preliminary calc I did to estimate the size of a flywheel turning at 1800rpm. This is based on @Chris baler chunker video which he was powering with a 9 amp motor. Right now I'm thinking I could power with a 212cc predator on chargas.
Rindert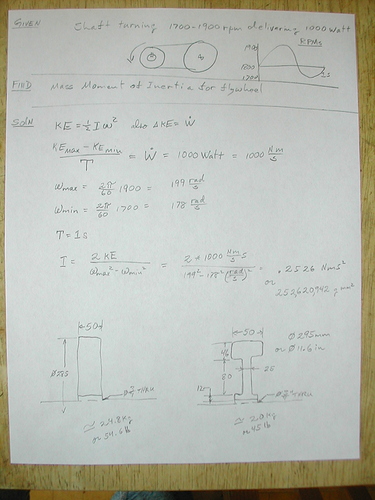 Ah, sure, your "director" certainly knows the translation better thain l do

l understand 80% of the language but still l usualy miss the important bits. And it just happened my Bosnian coworker wasnt on the shift today. I got most but failed to understand what was the exact reason why he harvested them at this age and not a few years later. He did say his main goal was firewood if l understand right…
Rindert,
I don't know if your question is about @Jan's chunker or chunkers in general. I don't have that type chunker but used a flywheel from a stationary bicycle for my rebak chunker, only because it happened to fall in my lap.
I think most of us would first if all use whatever we could get our hands on and secondly just try to estimate if the rear end, gearbox or whatever we're using can take the torque and abuse of the flywheel coming to a halt. I'm not familiar to balers, but at least if you're using a vehicle rear end the flywheel would spin 3-5 times faster than the cutting rim.
Yes, that is wath is told me too. Didn't think that Palowna looked like that. A friend of mine has a real old one in his garden. Not so straight at all.
Well there are many vorietys. I know wich one you are reffering to, its more of a ornamental kind. But those straight vorietys are stupid fast growers.
Actualy, a guy just a few miles down the road planted 8" saplings in June? This year and today they are over 3 feet tall. I will post pictures tomorow if l remember to take them.
I am interested in them as well, partly allso because they flower strongly when mature. Bee stuff…
As for growing back from the stump, l know young ones do because years back here was only one woriety that culd be purchased and it wasnt wery winter hardy so people sugested cuting it down the first or second year to make it more hardy. With newer vorietys this seems to not be nessesery.
As for older trees, l dont know.
Althugh my mother did sew seeds years back and nearly all sprouted and turned to 10" saplings same year. So even replanting isnt a big deal.
She moved since then, l am curious how the trees are doing after all those years…
But allso, the fact they sprout so easy and row so fast is a potential recepie for a disaster. If this thing becomes invasive it wuld be a catastrophy. This is why l am still hasitant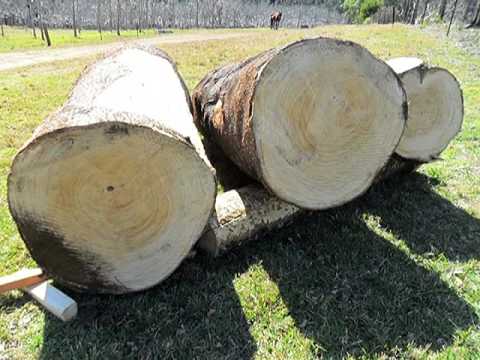 This Serbian guy got it smart! He says he did cut it to the ground the first year for aclimatisation like l mentioned. But the wayl look at it, and the way he presented it, you culd plant it in alternating rows with corn on year 1, combine or silage the corn and pawlovnia to the ground, next year the pawlownia grows on its own and does so for the next 5 years. Harvest, repeat.
Couldn't really see your drawing rindert, so I'll just tell you from experience. Not sure about pulley sizes but I have motorcycle tires on my sawmill and they are filled with concrete or pourable grout to be more precise. I'd have to measure the pulley on the engine and on the drive wheel to get a ratio and of course the mill turns much faster than a chunker would but there was no balance issue with them. They don't wobble. If the tire was totally filled and at the rate it spins I don't think there would be an issue. I have a two inch solid shaft about five or six feet long. If I were to build one I would take the shaft and mount it in two pillow blocks. I would take the two inch shaft and add pipe sleeves until the shaft diameter matched the hub opening on a wheel, Set up a dial indicator and tack and smack the wheel until it ran true and then add enough weld to hold it. Being the junk yard builder I am, I would probably weld the same size wheel to the one with the tire on it and make some kind of flat belt to power if from another smaller pulley from the motor. I have a large cement mixer. It will easily fill a wheelbarrow and that gets powered by a one horse electric motor from a table saw. I think the motor pulley is about two inch and the drum pulley is 16 inches but it turns the drum about as fast or maybe a little slower that a chunker would. That's my story and I'm sticking with it. Your millage may vary.
I like it.


Maybe I went off on a tangent before. Its been known to happen. I guess my main point was that a flywheel running at 540rpm stores 81 times as much energy as the same one running at 60rpm.
Rindert
Can you tell me the approximate dimensions of this flywheel and how fast are you making it turn?
I have thought about an exercise bike flywheel, but I have not found one yet.
I have this old harmonic balancer from a big v8 engine, but it's much too small. Maybe I could shrink a 20 lb (9Kg) aluminum ring onto it. It would be very good for removing very high frequency vibrations. But I feel ridiculous. I want to find a proper flywheel.
Rindert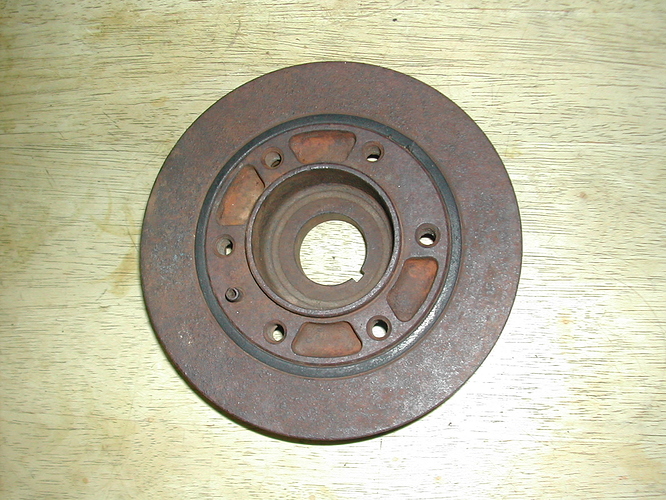 It's 12.5" in diameter and I guess the weight is 10-15 kg. Most of it at the very perimeter.
I clocked the cutter shafts to 108 rpm and the flywheel shaft turns about 4 times faster.
With 4 cuts per turn and 7-8 chunks a second the flywheel gets very little time to recover, but it's still better than nothing.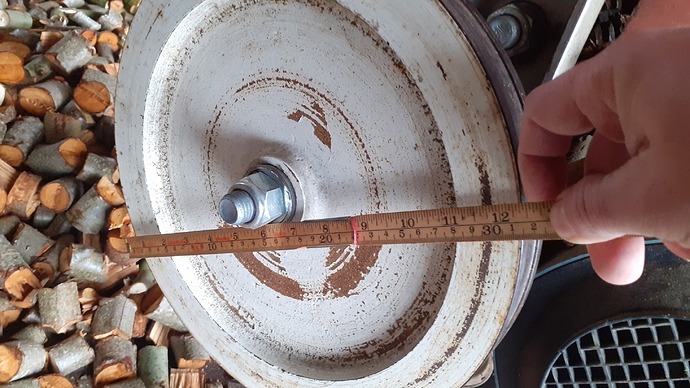 This talk about using a tire for a flywheel with cement reminds me. If you fill the tire with a liquid (such as water with antifreeze), that will actually balance the tire for you. Nice smooth operating flywheel. TomC
Tom, unfortunaly that wuldnt work as a good flywheel because the mass isnt fixed to the structure. Imagine spining a glass of water around its vertical axis quickly. The glass rotates but the water does not. Same goes if you spin the water, there is litle force on the glass.
But your idea got me thinking, you culd fill it with plaster (hardens faster thain concrete) and spin for the time it hardens to balance it while it is still liquid.
Thanks Jan. This is very useful.
Rindert
Boy of all people, I hate to contradict you. BUT— within a few revolutions, the friction between the wall of the tire and the liquid, will cause the liquid to spin with the tire. At one time they sold hollow plastic tubes formed into a ring that were filled with a liquid. You snapped the plastic ring into the lip of the rim flange, to ballance car tires. Also, in farming we often fill the tires with a liquid to give the tractor more weight and better traction. (I sent my new tractor back to have the dealer put liquid in the rear tires-- the front end loader was tipping the tractor) Besides adding weight, the liquid makes the tractor ride much smoother when roading. TomC