The idea comes from @KristijanL with his last build, utilizing the internal heat to preheat the incoming air and then I want to heat the hopper like some of the old Imbert gasifers did. Using a hot hopper to dry and cook / pyrolysisation of the wood is always a plus. The outside barrel is a heat shielding, with cold ambient air coming in from the side and bottom. Any condensation it drains out the bottom.
It also has to be able to service it with a yearly tear down for clean out of the hot moderator hopper this area will also serve as a ash / soot drop out for the gases.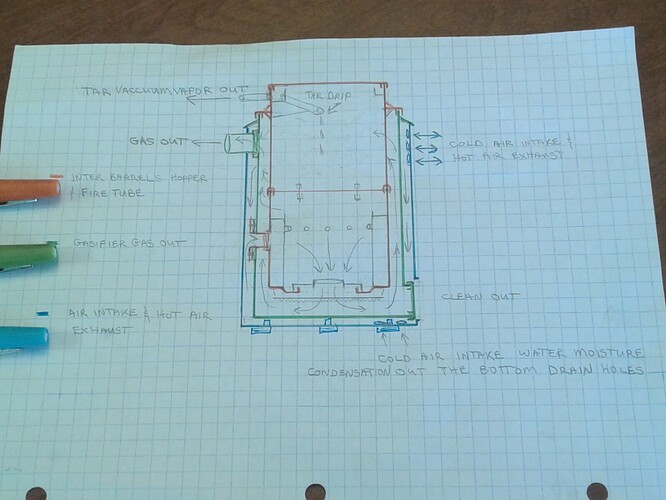 In the hopper I added a tar drip that
@trikebuilder57
Al Flick had this on his gasifer. He said he used less wood because of it.
With the tar vaccum vapor / moisture removal system that Joni came up with added to the hopper, I think this will be a winning combination.
This will be a slide into the back of my truck unit or a smaller size gasifer on the back bumper hitch like Joni has designed.
It should be able to run a small V-8 to 4 cylinder engine, by changing out the size of the unit or restiction hole size.
I am trying to keep it as simple as possible a Barrel in a Barrel in a Barrel.
Bob