##Thread index
1. Imbert setup
18. Rototiller 1 on woodgas
35-37. Copper cooler, preheat air ida, original cyclone cooler
43. Pine needle filter, tar
45. Fuel removal by layer, old grate, no heat damage to hourglass hearth, new slotted grate, fuel sorted
47. Hourglass hearth, single port air inlet, new cyclone
49. Resize new cyclone
50. start dismantle
51-57. Begin preheat shroud
59. Rototiller on woodgas 2
80-88. Cooler
90. Hopper condensate drain install
92-94. Gaskets
95. Cooler/preheat air connection to burner unit
96-97. Temperature gauges
98. Old puffer lid
108. Old in-line cooler design
111. Hopper vibrator
114. Copper radiator
117. Timer
121. Rotating grate start, new slotted grate
127. Dan Cox thermocouple
131. Puffer lid puffing
140. Begin monorator hopper
162. Layout moat
167-187. Grate rotation vid
189-190. Monorator hopper lid
211-225. Begin filter
227. Cleanout hanger straps, more monorator hopper
228. Filter finished
231-243. Unit setup and run, new cyclone dimension chart, preheat shroud start
240. View of my fuel size
244. 18hp Craftsman mower and snow blower pics
246. Imbert dimensions (in), parts layout of unit
251. Vid of pullback @1m42s
254. Start up, swirl burner, running temperatures vid
255. Yellow bumphouse fan
258. Cyclone particles vid, failed gasket pieces in dust
270-294. Begin cooler tubes
302-312. Trolley
315. Fuel removal by layer, hearth heat damage, combustion zone burning (from 1-28-15 run)
325. Grate shaker turner vid, pic of new slotted grate
328. Ben's monorator hopper vid
330. Char cleanout, cleanout cover off showing moat
331-325. Using trolley to mismantel unit, gasket performance assessment
354. Begin 2015 teardown, mods
360. Hourglass hearth mod, heat sink flange
361. Begin new basket type grate
368-369. Grate video
370. Rockwool
391. Flamebuster
394. Heat shield burnershell exhaust
395. Filter loading
396. Sorted fuel from teardown
397. Drain pipe, thermometer placement
398. Setup vac tubes for start, run
401-403. Intake cone for bumphouse fan
406. Bridge after good run
410. New hopper vibrator mount
411. Third run using bumphouse fan, temperature run chart. run vibrator @2m. Started monorator for 2014 season
417. Third run results vid
419. New hopper moat drain
424-427. Fans and forges
###Post #1
Richard "Pepe" Lemieux | 6/17/2012 5:51am
---
Hello fellow small engine enthusiasts,
I included my conversation with MP as a learning lesson with a humorous duh moment I thought would invoke a few nodding smiles. I know I did. Wife and I got a laugh out of it ,too.
> I finally ran an ICE successfully(sort of). A milestone for me and I'm
> more encouraged than ever! Don't give up no matter how slow your
> progress is, it will happen. Thanks to all who have offered help and
> words of encouragement, you are greatly appreciated. I'm starting a
> new 10.75" fan with the same motor. I never thought my fan would shut
> me down. Details, details, details this was an oh XXXX moment, but I'm
> really psyched now! Enjoy, Pepe
>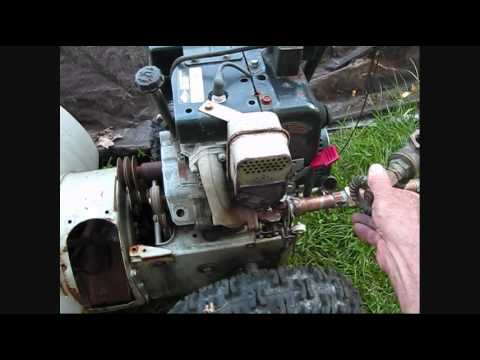 After I posted this on youtube, I got an eye opening (and duh moment) comment;
Congrats, PePe! Say, pardon my ignorance if you've already gone over
this (or I haven't looked at all the pics), but the mixer valve near the
engine appears to be flowing gas out, rather than sucking air in, while
the engine is running. In many setups this valve serves as a flare valve
while the fan is running prior to startup (positive pressure), then
reverts to an air supply valve (negative pressure) once the engine is
running and the fan is shut off. (Terry's riding mower is a good
example, or Gary Gilmore's generator). But I take it you are pushing
woodgas - plus air - to the motor, the air coming from leaks in the line
or another air mixer valve? This would be why gas is coming out of this
valve during the run?
Hi MP, Thanks and as soon as I read your comment I realized in my enthusiasm to hear it fire up I completely forgot to shut off the elec fan. I did wonder strongly why it was puffing smoke, lol. My thought then was that too much gas was being pushed through and blew back here. Still not a thought of just letting the engine pull its own.
Wait until I tell my wife, we'll get a good laugh out of it.
Thanks so much for your comment, it certainly clears up a couple of issues. I do like the idea of using that valve for the flare. The swirl burner is cool to watch with friends and grand kids, but cumbersome in the overall scheme.
One cool thing that happened was when I put my torch to the exhaust, it popped off every other time the smoke puffed out of the carb. Ahh, the pieces start to fall together. Left the fan on, I still can't believe it. lol.
Pepe